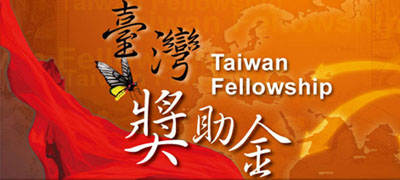 The Taiwan Fellowship is established by the ROC Ministry of Foreign Affairs (MOFA) to encourage foreign experts and scholars of social sciences and humanities interested in issues related to Taiwan, cross-strait relations, mainland China, Asia-Pacific region and Chinese studies to conduct advanced research at universities or academic institutions in Taiwan. The application is open till June 30, 2016.
Financial assistance
(1) Monthly grants are paid at the beginning of every month.
Professors, associate professors, research fellows, or associate research fellows: NT$60,000.
Assistant professors, assistant research fellows, or doctoral candidates: NT$50,000.
(2) One round-trip, economy-class ticket for the most direct route to Taiwan (The  subsidy will be decided by MOFA in accordance with relevant regulations).
(3) The terms of fellowship are 3 to 12 months.
(4) Accident insurance (plus a medical insurance for accidental injuries) coverage of NT$1 million.
Please go to Online Application, fill in the application form and upload relevant documents. After applying online, please send hard copies of all the relevant documents to the Taipei Representative Office in Hungary by July 1, 2016. The mailing address of the Taipei Representative Office is 1088 Budapest, Rákóczi út 1-3./II, Hungary.
For more information, please visit the official website of the Taiwan Fellowship Program.