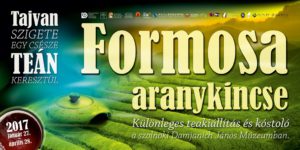 The Taipei Representative Office is pleased to announce that the Damjanich János Museum in Szolnok, Hungary, in cooperation with this office, Taiwan's Yingge Ceramics Museum, Library and Information Centre of the Hungarian Academy of Sciences, Ferenc Hopp Museum of Asiatic Arts, Hungarian Museum of Trade and Tourism and Hungarian Geographical Museum, will be hosting a Taiwanese tea culture exhibition titled "Formosa's golden treasure: Taiwan through a cup of tea" from January 27 to April 28.
The exhibition features, among other things, tea sets from the Yingge Ceramics Museum, artifacts from Hungarian institutions, displays of different types of tea, a video presentation about tea culture and the tea ceremony in Taiwan, and information about the introduction of tea to Hungary. Museum goers are promised a journey through the history and the making of tea, an essential beverage for most Taiwanese people.
In the early 18th century, immigrants from mainland China's Fujian province brought Camellia sinensis, the plant species used to produce tea, to Taiwan. Over the hundreds of years since, unique local cultivars have been bred that are more resistant to disease, faster growing and better tasting.
The country's excellent natural conditions and the highly standardized process of tea manufacturing have helped ensure the quality of tea products. With a size one-third of Hungary, Taiwan cultivates numerous types of specially flavored teas, which play an important role in its society, economy and culture.
The opening ceremony will be held at 16:30 on January 27 at the first-floor exhibition room at Damjanich János Museum. Dr. Chiang Shu-ling from the Yingge Ceramics Museum will conduct a Taiwanese tea ceremony at the opening, and will host a tea workshop at 15:00 on January 28.
For more information, please visit the museum's website.
Damjanich János Múzeum
Szolnok, Kossuth tér 4, 5000 Hungary
www.djm.hu/
Phone: +36 56 421 602