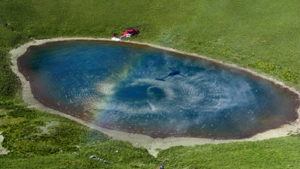 There are all kinds of jobs in the world.  In Taiwan, there are those who have it tougher than others.  From open skies to soaring mountains, from tropical rainforests to dense urban cities, join us as we explore some of the toughest, most challenging jobs Taiwan has to offer. We will see firefighters who make every second count while battling deadly flames, fearless botanists who travel to the Solomon Islands to search for rare plant species, young baseball players aspiring to make it to the Major Leagues, and dog trainers experimenting with cutting edge techniques to find and eradicate invasive fire ants and fungi.  Their jobs are nothing short of impossible, forcing them to face the worst odds every day. They will meet any challenge and accept any odds. They are Taiwan's Toughest.
| | | |
| --- | --- | --- |
| program | Broadcast time | Repeat |
| Air Rescue | 16/07/2018  16:00 | 24/07/2018  18:00 |
| Firefighters | 23/07/2018  16:00 | 31/07/2018  18:00 |
| Plant Hunters | 30/07/2018  16:00 | 07/08/2018  18:00 |
| Road To Mlb | 06/08/2018  16:00 | 14/08/2018  18:00 |
| Sniffer Dogs | 13/08/2018  16:00 | 21/08/2018  18:00 |
FIREFIGHTERS
Some run from danger. Others run towards it to help. In Taiwan, it is the firefighters, the first responders to fires, natural disasters, medical emergencies, accidents and rescue operations.
How does a new recruit adjust to this dangerous life in busy New Taipei City, with its urban districts, countryside, mountains, rivers and coasts? Every day the firefighters have to take on disasters – and in doing so battle the city itself.
SNIFFER DOGS
Disease, pathogens, invasive species! Lethal global plagues that threaten our safe air travel, health and the environment that sustains us. The summer of 2015 was Taiwan's wake-up call to jest how vulnerable we all are! 43,000 dengue infections, over 200 deaths! How to contain the deadly onslaught of a mosquito-borne pandemic, a silent pathogen that fells giant trees without warning, and armies of invasive stinging ants that eat the electronic components of airport runway lighting systems?
Chi Wei-lian has a plan: the trusted nos of "Man's best friend!"
PLANT HUNTERS
As a result of endless human exploitation and extreme climate changes, plant species are dying out faster than ever before. To save the world's biodiversity, Dr. Li Chia-wei leads a dream team through the rainforest of the Solomon Islands. These plant hunters' mission is to preserve as many living plant specimens as possible, so that one day they many help these endangered species thrive in the wild. Will they win the race against time?
ROAD TO MLB
Taiwan may not be the first place you think of when it comes to baseball, but it is indeed one of the most popular sports in Taiwan. From little league to pro, players and their families devote their lives to the game. Taiwan's Little Leaguers are among the best in the world, and high schoolers train to exhaustion in hopes of going to MLB, but only the best can make it; like Chien-Ming Wang, who gained frame with the New York Yankees, and Wei-Yin Chen, pitcher for the Miami Marlins.
MLB has taken notice of Taiwan's baseball culture, and more than fifteen major league scouts are based in Taiwan, looking for the island's next standout player, who just may make it to MLB.
AIR RESCUE
Taiwan handles many emergencies by helicopter. The National Airborne Service Corps has five main tasks – salvage, disaster relief, ambulance patrol, and transportation.
To take advantage of newer technology and an improved air-frame, rescue crews are giving up Hueys to use Black Hawk helicopters, and enormous task for even the most skilled pilot and crewman. The transition challenges them to learn new methods, new systems, and a new way of doing what they have always done, saving lives and protecting the public.